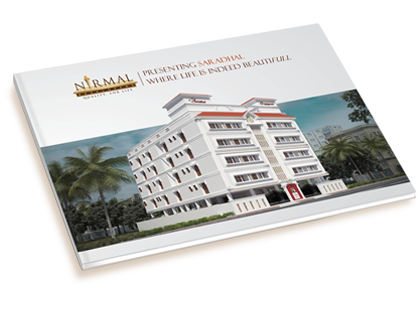 STRUCTURE
REINFORCED FRAME STRUCTURE
Reinforced cement concrete Earth Quake Resistant framed structure.
Tied at three levels in every floor (Sill, Lintel and Roof levels)
M20 grade of Reinforced Cement Concrete using Ordinary Portland Cement (OPC grade)
All RCC columns cast using M25 grade concrete ( OPC grade).
Fe500 grade reinforcement steel.
Designed by an experienced structural design engineer.
Sample concrete cubes are being cast at regular intervals while the Reinforced Cement Concrete is in progress and the cubes are sent to an authorized laboratory, results obtained and kept ready for your perusal.
Reinforced Cement Concrete walled cup-boards and wardrobes jutting out to ensure regular sized rooms.
Reinforced Cement Concrete drops and parapets for the balcony instead of brickwork or lath plastering.
BRICKWORK & PLASTERING
50 grade table moulded chamber bricks in cement mortar 1:6.
Internal brick partitions – two level RCC ties-one at sill and another one at lintel level and 2 nos. of 6mm dia hoop iron reinforcement provided at every fourth layer of brickwork.
Internal plastering in Cement Mortar 1:5
External plastering in Cement Mortar 1:5 water proofing compound mixed.
Ceiling plastering and plastering on all RCC surfaces in CM 1:3.
Brickwork and RCC joints treated with Chicken Mesh-Lath plastering to avoid cracks.
The surface of the concrete thoroughly hacked by mechanical means to ensure better bondage of plastering.
ROOF WATERPROOFING TREATMENT
Weathering course of half brickwork in Cement Mortar 1:3 laid to correct slope with water proofing additives.
One layer of best pressed Kerala clay tiles in Cement Mortar 1:3 laid over weathering course, joints pointed in Cement Mortar 1:3 mixed with water proof additives and matching colour pigments.
The inside of the toilet sunken slab surfaces, thoroughly treated against any possible water leakages, as per standard specifications.
JOINERY (DOORS, WINDOWS AND VENTILATORS)
Main entrance door – ornamental antique style in best Burma Teak .
Living and Dining – French doors / windows in Teak Wood for frames and Sash Bar Teak window shutters.
Bed rooms, kitchen – door and window frames in Teak Wood. Sash Bar Teak Window shutters. Skinned door shutters by Kutty Flush shutters Chennai.
Balcony and service area protected using elegant and robust MS grills.
Toilet ventilators in Teak Wood with provisions of fixed Louvers and Guard bars. Exhaust fans provided.
Ornamental pooja door using Teak Wood and Teak Veneers.
Bathrooms and balcony– door frames in Teak Wood. One side Teak Flush Doors manufactured by Kutty Flush doors, Chennai.
Elegant and Robust MS grills provided for windows, French doors and windows.
JOINERY FITTINGS AND FIXTURES
Best quality brass fittings and best quality YALE brand brass Mortice Locks for all entrance doors.
All internal door shutters provided with suitable YALE brand Mortice Locks. Fixtures and fittings like Hinges, Tower Bolts for door and window shutters provided with high quality aluminium / stainless steel fittings.
FLOOR & WALL TILING (KITCHEN, BATHROOMS & SERVICE AREAS AND LIFT FAÇADE – CLADDING)
Living and Dining – 1200mm x 600mm size premium class marble digital series Vitrified Tiles (BRAND – QUTONE / NITCO) or equivalent.
Bed rooms, kitchen and pooja – 600mm x 600mm size premium class marble digital series Vitrified Tiles (BRAND – QUTONE / NITCO) or equivalent.
Balconies and service areas flooring – 300mm x 300mm anti skid exterior Vitrified Tiles (BRAND – NITCO) or equivalent.
Toilet – flooring – 300mm x 300mm premium class Vitrified Tiles (BRAND – NITCO) or equivalent.
Kitchen and bathroom wall tiles – 900mm x 300mm / 600mm x 600mm premium quality digitally printed ceramic wall tiles (BRAND – NITCO / QUTONE) or equivalent.
Staircase / common area / entrance foyer flooring – best quality polished granite slabs – anti-skid leather finish granite flooring for treads of the staircase.
Car parking flooring – Basant Beton (Bangalore) make premium quality exterior tiles.
Kitchen platforms & shelves – best quality granite slabs polished to high degree finish – kitchen platform 30mm thick polished granite – edges bull nosed.
Lift façade in all floors – high quality polished granite cladding with grooves and cornices.
PLUMBING, EXTERNAL SANITARY, WATER SUPPLY SYSTEM
2 Nos. of RCC overhead tank of 28000 litres of total capacity on roof top. Two different compartments provided to store treated borewell water and Mettur water.
RCC underground sump provided in stilt with two compartments to store untreated borewell water and Mettur water seperately – each compartment of 15000 litres capacity (total capacity of 30000 litres) provided.
Septic tank of adequate size for 100 users provided as per relevant specifications.
The external sanitary system executed very professionally – adequate Nos. of manholes / inspection chambers provided connecting it to septic tank with required slope.
The sullage water taken out by providing inspection chambers and manholes with necessary slope to let out into the external drainage.
Concealed plumbing pipe lines using Astral/Ashirwad make CPVC pipes. Sewage and sullage pipe lines executed using SWR/PVC pipes manufactured by Supreme / Finolex.
All control valves (Wheel Valves) manufactured by Zolotto / Leader Company.
All cast iron covers for manhole and inspection chambers are of standard weight manufactured by NECO.
Independent solar water CPVC lines provided in bathrooms with independent control valves inside the bathrooms.
Provisions for Geyser connection in all bathrooms.
Bathrooms provided with individual control valves inside to control water inflow from overhead tank, during maintenance.
BATHROOM, KITCHEN (FIXTURES AND FITTINGS)
TOTO / DURAVIT or equivalent brand of imported CP fittings for taps, hot and cold basin mixers, concealed flush tanks etc., provided.
Shower area – TOTO / DURAVIT or equivalent brand single lever diverter with 2 way control for shower and spout.
EWC concealed flush tank of GEBERIT brand or equivalent .
Wash basin – hot and cold basin mixer provided – TOTO / DURAVIT brand or equivalent.
Counter top wash basins and wall mounted water closets – TOTO / DURAVIT brand or equivalent.
Kitchen sink – stainless steel sink by FRANKEE or pre polished granite sink with drain board will be provided.
Custom made Modular Kitchen using SLEEK brand SS baskets/ fixtures and premium quality BWR grade plywood laminated shutters.
Quality mirrors provided in all bathrooms.
Granite niche provided for storing soap, shampoo and other toilet requisites.
Branded CP accessories like tower rails, hand grips etc provided.
ELECTRICALS
Wires/Cable by RR Kabel or Finolex.
Switches – high end modular switches by Legrand.
All electrical conduits pipes manufactured by Avon Plast.
Three phase connection with phase changer and independent controls.
Adequate no. of light points, fan points, power points, TV points and wherever required 2 way switch controls.
Bathrooms – Geyser connections provided.
Plug & Play provision for air conditioners in bed rooms and hall and concealed PVC piping for external unit.
All flats are UPS compatible.
25 KVA diesel generator provided to ensure 24 x 7 power supply for common area, lift and motor pumps.
Properly designed electrical control panel with built in safety measures provided.
PAINTING, POLISHING AND FINISHING
Ceiling and internal walls –2 coats Birla Wall Care Putty, 1 coat of Primer and 2 coats of best quality plastic emulsion- Royale by Asian Paints or equivalent.
External walls – 1 coat of Primer, 2 coats of Apex Exterior Emulsion by Asian Paints or equivalent.
Front façade – treated with 1 coat of primer, 2 coats of Birla Wall Care Putty and 2 coats of Apex Ultima Exterior Emulsion by Asian Paints or equivalent.
Terracota façade tile pasted using best quality Grouts for the front façade tiling area and applied with 2 coats of Polyurethane coating.
Moulded cornices provided in all rooms.
Teakwood cornices provided in bathrooms and kitchens.
Teak architrave beading provided over the joints of the walls and door, window frames.
All four sides of the external walls provided with architectural bands, cornices, and grooves using cement concrete and Cement Mortar.
All Teakwood doors and windows including Burma Teak Entrance door are Melamine polished.
Internal door shutters and window shutters inside the flat are melamine polished.
All external sides of Teak Door and Window Shutters are Enamel painted with one coat of Primer, two coats of putty and two coats of Enamel paint.
Window and balcony grills are Enamel painted.
ANTI – TERMITE TREATMENT
The Building treated for anti-termite by pest control (India) Pvt Ltd with 10 years warranty.
GENERAL CONVENIENCES AND SAFETY FEATURES
Car parking with 'IN' and 'OUT' drive way. Space for one car for each flat buyer without additional cost.
Rubber moulded column protector with light reflector stickers for columns at stilt car parking.
One year maintenance period (Defects Liability Period) provided without any additional charges against any defective construction or building materials used.
8 persons passenger lift complete stainless steel car interior with all modern amenities and safety features by Johnson Lifts Private Limited
No common walls – completely independent flats with a lot of natural light and ventilation.
Intercom access control for each house.
CCTV facility with backup and live feed to each apartment with standby UPS.
Lightning arrestor provided as per standard specifications as a safety feature against lightening and thunder.
Key hole camera with inside display for each apartment's main door.
Automatic motion sensor controlled common area lighting.
Provision for fixing centralized servo power stabilizer facility of appropriate rating for each apartment.
Provisions for DTH in living and bedrooms.
Provisions for Broadband / Telephone lines for each apartment.
Tile dadooing for common area walls.
Driver's cabin and wash room for support staff.
Water softener plant to convert bore well hard water to soft water.
Gym room provisions for ladies and gents separately on terrace.
Cobble stone walking track on terrace.
PROJECT EXECUTED UNDER THE GUIDANCE OF CONSULTANTS OF VARIOUS DISCIPLINES LIKE STRUCTURAL DESIGN, PLUMBING, ELECTRICALS, VASTU ETC.
The entire Project has been executed very professionally engaging proper consultants of various disciplines, proper technicians, artisans and workmen with expertise.
The entire work executed adopting Central Public Works Department specifications with good construction practices.
Vastu energy– the entire planning done under the proper guidance of a well versed Vastu Energy Consultant.
The project is promoted by NIRMAL DEVELOPERS which is a sister concern of M/S. BRICKSTEEL ENTERPRISES who are reputable and experienced builders with around 40 years
of rich experience in all types of specialized construction including residential projects and they oversee the construction of this project.
Saradhal offers 15 homes in Salem's premium neighbourhood. Pick from our brilliantly designed homes and watch life take on a beautiful course. We've built this with you in mind. You'll be delighted to find that Saradhal is an uncompromising mix of quality and value.
2BHK | 3BHK | 4BHK
No common walls
Entry and exit driveways
Vaastu Energy Compliant
Terrace walking track